Enjoy making your own homemade Anti-Scar Oil
The best way to prevent scarring is to thoroughly clean the wound as soon as possible.
Scars are part of the natural healing process as the skin heals itself after being damaged from accident, surgery, disease or sunburn. Scars may look different between individuals and the type of wound. They may be raised or flat, pink, purple or brown in colour. People of African or Asian descent are more likely to get keloids than people with lighter skin. A keloid is a thick raised scar that doesn't know when to stop growing. Generally, the more the skin is damaged and the longer the healing process, the more likely it will produce a noticeable scar. The best way to prevent scarring is to thoroughly clean the wound as soon as possible. Anti-scar oils can help in the healing process and in some cases may even minimize old scars.

Tip: Undiluted lavender essential oil can help heal small burns. Apply cool water at once to help reduce the temperature of the affected area. Place 2 drops of lavender oil on the burn and gently pat it into the skin. Apply a dab of aloe-vera gel and cover.
If you enjoy this site please share it with others.
Oil for Scarred or Dry Skin Recipe:
This fragrant oil blend is an all-purpose facial and body oil that helps to restore the skin. It is wonderful for skin damaged by acne, scars and sun and is beneficial to mature, dry skin, as well.
2 tbsp. hazelnut oil
2 tbsp. unrefined, organic rose-hip-seed oil
1 tsp. vitamin-E oil
5 drops calendula oil
5 drops carrot-seed essential oil
5 drops lavender essential oil
5 drops rosemary essential oil
Combine all the ingredients in a small dark-glass
bottle with a dropper top. Shake the oil thoroughly before use
to ensure that the ingredients are completely blended. Store
in a cool, dark place; it should keep for about a year.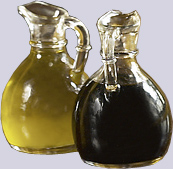 Seek a Dermatologist's Care!
Some types of scars, such as surgical or raised or old scars, can be extremely hard to treat and may take a long period of time ~ even a year or two ~ to become less noticeable if you are using only home remedies. This is also true of scars that may deepen over time, such as chicken-pox or acne scars. See a board-certified dermatologist if you wish to find out about procedures to remove them more quickly or if your scars cause any pain or discomfort. Among the many options that a qualified dermatologist can offer to minimize scars are chemical peels, dermabrasion and laser treatments.
Take Care!
Keep all essential oils away from small children and pets; irritation, nausea and vomiting can result if ingested. Pregnant women and epileptics should avoid using carrot-seed and rosemary oils. Also, carrot-seed oil may cause sensitivity to sunlight.

Application:
Each morning and evening, gently cleanse the affected area. Apply 1 - 2 drops of anti-scar oil directly onto the healing wound or scar. Gently massage it into the skin, allowing it to penetrate for 10 minutes. Then apply lotion.
Ingredient Benefits:
Calendula for healing: Calendula petals yield a deep-orange essential oil that has an intoxication herbal fragrance. Calendula oil's antiseptic, antifungal and anti-inflammatory properties make it a good choice for healing wounds, burns, acne, insect bites and cuts. The oil is also gentle enough for use on both infants and children.
Rosemary essential oil to boost cell formation: This clear oil has a strong, earthy fragrance reminiscent of eucalyptus. It can stimulate new cell formation and is good for all skin types.
Rose-hip-seed oil for damaged skin: Rose-hip-seed oil has a clear, reddish colour. It is extremely high in essential fatty acids and is excellent for scarring, wrinkled or aging skin. The oil is also good for dry and sun damaged skin. Look for unrefined, organic rose-hip-seed oil; only this type should be used on your skin.
Vitamin-E oil to help fade scars: This oil is very popular as a skin softener and healer. Vitamin-E oil can also help fade scars. It is easy to use: Pierce a vitamin-E gel capsule with a sterilized needle and squeeze the content onto your skin.
Hazelnut oil as a base: Extracted from pressed hazelnuts, this clear, pale-yellow oil has a mild fragrance and is high in vitamin E and fatty acids. Hazelnut oil is one of the best base oils for homemade creams, oils and lotions because of its lightness and resistance to spoilage.
Join Our Free Newsletter

and
Get This FREE
brand new E-Book

"A-Z Reference Guide"

which includes links to all the recipes on this site plus
Ingredients Benefits
and HOW TO TIPS.
We value your Privacy