Enjoy making your own homemade Facial Scrub
It is advised not to use a facial scrub more than twice a week.
The term Facial "scrub" would imply that you use it to "scrub away" your skin problems. While the scrub is effective at removing surface buildup of dry, dead cells and thus keeping the pores open, overuse and too harsh an abrasive material can actually rob your skin of its protective moisture layer. Many commercial facial scrubs, containing sharp pieces of pumice can actually scratch your skin; so a safe alternative is to make your own homemade facial scrub.

Tip: A facial scrub made with grains or flaxseeds, left on for 10-15 minutes will increase the detoxifying effect.
If you enjoy this site please share it with others.
Facial Scrub Recipe:
Normal and Oily Skin
Oat Facial Scrub
2 tbsp. finely ground rolled oats
1 tbsp. German-chamomile water
2 drops extra-virgin olive oil
5 drops tea-tree oil
To make an all-purpose scrub, mix the oats with the water in a small bowl, and let it stand for 5 min. Add the olive oil and the tea-tree essential oil, and then stir until blended. The anti-inflammatory and germicidal effects of the tea-tree oil help to heal painful red pimples.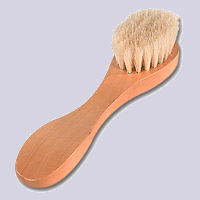 Sea Salt Scrub
1 tbsp. very fine sea salt
1tsp. olive oil
Mix the sea salt and olive oil in a small bowl. Moisten your hands, apply the mixture to dampened skin and gently massage it in for about 1 min.; rinse thoroughly. The antibacterial effect of salt encourages cleansing and protects against infections. However, don't use it on sensitive, mature or pimply skin.
Flaxseed Scrub
1 tbsp. finely ground flaxseeds
1 tbsp. German-chamomile water
3 drops lavender essential oil
A flaxseed scrub is recommended for oily skin. In a small bowl, stir the flaxseeds into the German-chamomile water, and let the mixture stand for approximately 5 min. Stir in the lavender essential oil until the mixture is fully blended. The lavender revives and tightens oily skin naturally; it also gently stimulates circulation and acts as a strong disinfectant.
Take Care!
Do not use facial scrubs on skin suffering from acne, unless the acne is healed. The scrub will irritate the skin and disrupt the healing process. Choose a non-abrasive exfoliant, such as alpha-hydroxy, beta-hydroxy or lactic acid, instead.
Homemade Facial Scrubs
For dry skin
2 tbsp. raw sunflower seeds, finely ground
1 1/2 tbsp. hot water
1/2 tbsp. avocado oil
2 drops frankincense oil
For sensitive skin
2 tbsp. raw sunflower seeds, finely ground
1 1/2 tbsp. hot water
1/2 tbsp. St. John's-wort oil
2 drops calendula oil
Mix the ground sunflower seeds with the hot water; let it thicken for 5 min.
Add the avocado oil or St. John's-wort oil and blend thoroughly.
Add the frankincense oil or calendula oil and blend thoroughly.
Apply the scrub to your face while it is still warm. Massage in and rinse off.
Note: If the ground sunflower seeds feel too rough on your skin, substitute some finely ground, uncooked oatmeal.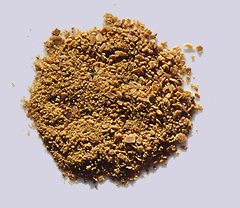 Calendula Mask
For sensitive skin
2 tsp. mild cleansing lotion
2 tsp. dried calendula flowers, ground
Combine the cleansing lotion with the dried calendula flowers.
Apply the mixture to your freshly-cleansed face while it's still damp.
Leave the mask on your face for about 5 min.
Moisten your fingers with warm water; gently massage your face, using small circular motions.
Rinse off with warm water, freshen your skin with a mild toner and apply a light cream.
Skin Chamois
Many salons and bath shops carry soft rubberized cloths called skin chamois. These super smooth cloths are excellent for washing sensitive or sunburned skin.

Application:
Generously apply the facial scrub to clean, moist skin with damp fingers. Gently massage your skin, using circular motions from the forehead downward, for one to two minutes. Because scale-like cells can form on the neck and chest as well it it a good idea to scrub these areas as well. Rinse off the scrub with warm water and then apply a toner or moisturizer if needed.
Ingredient Benefits:
Oats for soothing and cleaning: Finely-ground rolled oats gently remove dead skin cells. Oats contain pectin, gums and emollients that soothe and heal all skin types. With gentle use, an oat-based facial scrub will give skin a rosy glow and help keep the skin's pores free of debris.
German-chamomile water for inflammations: A by-product of German-chamomile essential oil, German-chamomile water is high in alpha bisabolol and chamazulene, both antiseptics and anti-inflammatory. Use this water, which is available in health-food stores, in place of tap water in your facial scrub.
Nourishing olive oil for normal skin: Extra-virgin olive oil contains vitamin E and minerals, making it especially nourishing and gentle for the skin. Regular use will help to improve the skin's moisture balance, so include a scrub made with olive oil in your weekly cleansing routine.
Flaxseeds for sensitive skin: Fresh, finely ground flaxseeds are suitable for scrubs for all skin types, but are especially good for normal or oily skin; these types are prone to surface dehydration and irritation. The slippery and mucilaginous qualities of flaxseeds not only serve to gently exfoliate the skin, but also to soften and moisturize it.
Raw sunflower seeds for smooth skin: Raw sunflower seeds can be finely ground to make soft granules that thoroughly remove flaky skin. The seeds also contain natural fatty acids that help cleanse your pores and soften and condition your skin.
Avocado oil for softness: Avocado oil, obtained from the flesh of ripe avocados, contains large quantities of vitamins and essential fatty acids, which are nourishing for dry skin. Its medium to fine consistency helps it penetrate the skin easily and help prevent wrinkles.
Frankincense oil for stressed skin: Frankincense essential oil, extracted by steam distillation from the resin of a scrubby tree native to Africa and India, is often added to skin-care products. The oil helps to rejuvenate tired, wrinkled skin and is perfect for dry and mature skin types. In addition, its anti-inflammatory properties benefit sensitive and environmentally damaged skin.
Calendula oil for sensitive skin: Calendula oil, extracted from calendula flowers, can inhibit inflammation and help heal wounds. It also protects sensitive skin from environmental damage and has a warm, pleasant, earthy scent.
Join Our Free Newsletter

and
Get This FREE
brand new E-Book

"A-Z Reference Guide"

which includes links to all the recipes on this site plus
Ingredients Benefits
and HOW TO TIPS.
We value your Privacy