Enjoy making your own homemade Suntan Oil with "strictly organic" products.
To prepare your skin for an even tan, gently exfoliate your face and body first.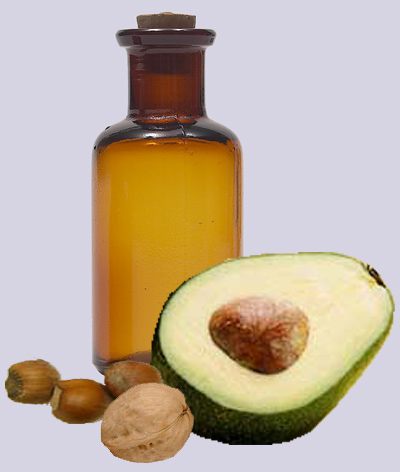 Forget the Coconut... Use these oils instead. Make your own Suntan Oil using these 5 Organic Oils. Sesame, Wheat-germ, Avocado, Walnut and Hazelnut.
We are all aware of the warming, uplifting and energizing effect on the body and mind of the sun, especially living in areas of long overcasts in the winter months. We can hardly wait to shed our clothes in the spring and let the sun at our skin. The sun possesses measurable health benefits, as it enhances the body's absorption of calcium and stimulates the production of vitamin D. For this reason 15-30 minutes (depending on skin type) of unprotected sun exposure daily can actually be quite beneficial. However, the danger of too much sun should not be taken lightly. The sun's UBA and UVB rays can cause the skin to dry and age prematurely. Try making your own homemade suntan oil, made with natural "Organic" ingredients to compensate. See also Sunscreen Lotion.

Moneysaver Tip: Use leftover suntan oil to condition your hair: Apply a small amount to damp hair, cover with a shower cap and allow oil to penetrate. Wash hair as usual.
If you enjoy this site please share it with others.
Suntan Oil Recipe
The lavender and calendula essential oils in these suntan oils possess anti-inflammatory properties and can help protect the skin from sunburn. Ylang-ylang oil has a sweet, relaxing, tropical fragrance and patchouli oil can help to heal dry, cracked skin.
For normal skin
2 tbsp. sesame oil
2 tbsp. wheat-germ oil
4 tsp. hazelnut oil
4 tsp. walnut oil
5 drops lavender essential oil
5 drops ylang-ylang essential oil
For dry skin
4 tsp. avocado oil
4 tsp. hazelnut oil
4 tbsp. sesame oil
4 tsp. walnut oil
4 tsp. wheat-germ oil
6 drops calendula essential oil
4 drops patchouli essential oil
Mix all the ingredients together in a small bottle. Cap and shake the mixture thoroughly. It is important to shake the mixture well before each use as well, since the oils will separate when allowed to stand for long periods of time. Store the suntan oil in a cool, dry place out of direct sunlight.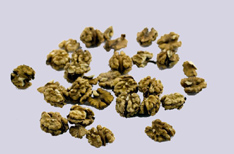 To protect your skin from harmful UVA radiation, use a suntan lotion with a high sun protection factor. Lotions with plant-based oils, such as vitamin E-rich avocado oil, have enhanced effectiveness. Vitamin E helps prevent premature skin aging due to sun exposure. Remember, there is no such thing as a safe tan. Use common sense, and always avoid any overexposure to the sun.
Take Care!
Natural suntan oils will keep for about 2-3 months. Refrigerate for maximum freshness. Do not use oils that smell rancid, as they have lost effectiveness.
Do not add citrus essential oils to your suntan oil. They can cause brown spots to develop after sunbathing that can last for years or even a lifetime.
Natural suntan oil is not waterproof, so be sure to reapply after swimming.
If you are fair-skinned, stay out of the sun between 10:30 a.m. and 4:00 P.M., when the sun's rays are strongest. Always use sunscreen - not tanning oil - to protect your skin, and be sure to reapply it often and thoroughly.
Before You Sunbathe
To remove dead skin cells and prepare your skin for an even tan, gently exfoliate your face and body with finely ground almonds or cornmeal mixed with oil and warm water. In addition, take advantage of the sun's warmth and apply a deep-conditioning protein hair pack (sold in health-food stores or drugstores). The heat will help the conditioner penetrate the hair's cuticle, leaving it soft, shiny and full of body.

Application:
Apply suntan oil evenly and sparingly to clean, exfoliated skin at least 30 minutes before sunbathing. The oil must penetrate the upper layers of the skin for its protective properties to be fully effective while you sunbathe.
Ingredient Benefits:
Hazelnut oil nourishes: This fast-penetrating, extremely light oil is one of the best oils for cosmetic use. It is high in vitamin E and unsaturated fatty acids, which nourish the skin.
Walnut oil provides a golden glow: This oil enhances tanning while helping to protect the skin from UV damage. Walnut oil contains numerous essential fatty acids that nourish and hydrate the skin, which easily and rapidly absorbs the oil's thin consistency.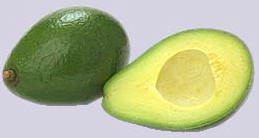 Avocado oil conditions and protects: Oil from the fleshy part of the avocado is very beneficial for dry skin, as it contains high levels of vitamins, lecithin and unsaturated fatty acids. Avocado oil can be used as a light sunscreen and is good for long-term use, since it does not spoil easily. Be sure to use only cold-pressed, unrefined avocado oil.
Wheat-germ oil smoothes the skin: This light, golden-yellow oil has large amounts of vitamin A, D and E, which help to smooth the skin by protecting it from tiny dry lines and wrinkles, as well as from loss of elasticity.
Sesame oil protects against harmful rays: Sesame oil, obtained by pressing the seeds of the sesame plant, provides the highest sun protection of all the natural oils. It is also very effective for softening and smoothing the skin. Be sure to use only cold-pressed, unrefined sesame oil, which has a fill, nutty aroma and is dark in color.
Join Our Free Newsletter

and
Get This FREE
brand new E-Book

"A-Z Reference Guide"

which includes links to all the recipes on this site plus
Ingredients Benefits
and HOW TO TIPS.
We value your Privacy