Enjoy making your own homemade Hair Tint or Hair Color
Do not use henna if you have blond hair, the results may shock you.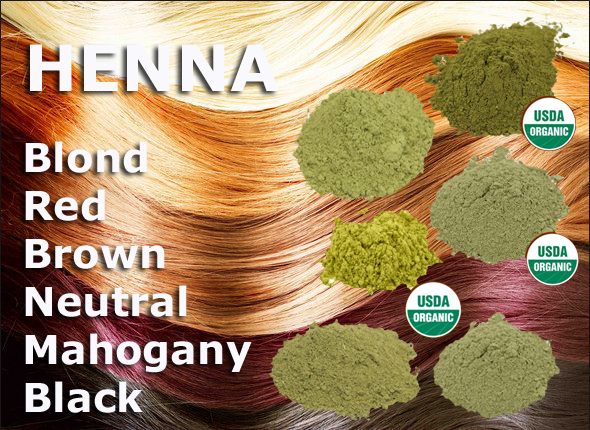 Before you buy Henna check out the quality at Starwest Botanicals first.
Over the years it has become such a norm for women and men to color their hair that seldom do they consider (or even realize) the negative consequences of their action. The chemicals that cause these lasting actions are bleaches and caustic hair dyes; both will likely make the hair feel rough, brittle and dull over time. A healthier alternative to changing your hair color are vegetable hair tints such as walnut shell or henna.
The henna plant itself is native to the world's tropical zones as are so many wildcrafted herbs, particularly those of Africa and Australia. Henna belongs to a botanical family of organic bulk herbs called lythraceae, which includes other herbs like myrtles and interestingly enough, the pomegranate tree. Starwest Botanicals offer 6 beautiful henna shades created from these botanical combinations. Choose from: Black, Blond, Brown, Mahogany, Neutral and Red.
While there are no known harmful effects that arise from the use of natural herbs such as powder henna, purchase of imported, pre-mixed henna paste is inadvisable; such pre-mixed henna pastes are known to contain adulterants not derived from natural herbs that can cause severe allergic reactions. Buy organic bulk herbs from Starwest Botanicals for your assurance that you are receiving the purest organic herbs for use in hair or on skin - and exercise proper cautions when using any medicinal herbs.

Hair Coloring Advice: If your hair has been recently permed or treated with chemical dyes, wait about 3 weeks or longer before applying a natural tint. Chemically treated hair will react differently to natural tints than will untreated hair.
If you enjoy this site please share it with others.
Hair Tinting Recipes:
Highlights from Henna
Henna powder, any colour(4 oz. for short hair, 6 oz. for medium length hair or 8 oz. for long hair)
3 cups boiling water (or coffee, for use on grey or hard-to-colour hair)
1 egg yolk
2 tsp. olive oil
Choose the amount of henna powder recommended for your hair length. Pour enough of the boiling water (or coffee) over the powder to make a fairly thick paste. Stir it well. Let cool for 10 min., and then add the egg yolk and olive oil, stir to blend. Follow application directions (below). Rinse your head directly under the tap, not in a shower. Rinsing henna out can be difficult, so take care to do so thoroughly.
Reviving Brown Hair
Walnut-shell powder
3 cups boiling water
1 tbsp. olive or avocado oil
1 tsp. lemon juice

Walnut shells gives all shades of brown hair a warm, bright tint. Use the same amounts as directed above for various hair lengths. Walnut-shell powder is available below, or you can grind small pieces of dried walnut shells in a coffee grinder. Make a paste as above and let it sit for 10 min., add the oil and lemon juice. Follow the application directions (below).
Rinse for Blond Hair
2 cups water
5 tbsp. chamomile flowers
2 tsp. fresh lemon juice.
Boil the water and add the chamomile flowers. Remove from heat and let it steep until cool. Add the lemon juice, and then strain. Wash and condition your hair as usual and apply the rinse evenly. Use often for greater lightening effect.
Using Vegetable Tints
To avoid staining the skin when you use hair tints made from walnut-shell powder or henna, wear gloves and first apply petroleum jelly to your hairline and to your ears.
Allergy test: 24 hr. before coloring your hair, mix a small amount of the tint and test it on the inside of your elbow. If your skin is irritated the next day, the dye should not be used.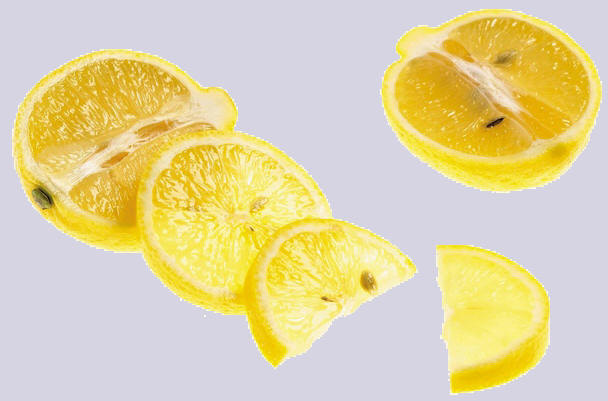 Application:
To apply henna to brown hair, add boiling water to the tint in a non-metallic bowl; let it cool slightly and apply to damp, not wet, hair with a dye brush, available in beauty-supply stores. Pile hair on top of your head and cover with a plastic cap; then wrap a towel around it. This keeps the tint warm, allowing the colour to better adhere to the hair strands. After one or two hours, thoroughly rinse your hair; then shampoo and condition as needed.
Ingredient Benefits:
Henna adds strength and shine: Henna not only gives hair a deep, bright red tint, but strengthens it, coating the hair and tightening the cuticle, the exterior layer of the hair shaft that protects the inner layers. The result is a rich, healthy shine. However, henna and other natural tints are only temporary; they last six to eight weeks and gradually fade because they don't penetrate the hair shaft (as chemical colorants do). Although your hair must be re-colored more often with natural tints, what you sacrifice in "permanence" you gain in damage prevention.
Natural lecithin for beautiful hair: Enrich vegetable hair tints by adding an egg yolk, which contains lecithin, a hair-softening emollient. This adds protein, which helps to smooth the hair cuticle and boost shine.
Vegetable oils prevent split ends: Before a treatment with henna or a walnut shell tint, rub a bit of olive oil or jojoba oil into your palms and apply it to the ends of your hair to discourage split ends, especially if your hair tends to be dry. These oils also nourish the scalp and smooth out the cuticle of each individual hair, making it easier to comb.
Join Our Free Newsletter

and
Get This FREE
brand new E-Book

"A-Z Reference Guide"

which includes links to all the recipes on this site plus
Ingredients Benefits
and HOW TO TIPS.
We value your Privacy