Enjoy making your own homemade Night Cream
Facial skin needs special care during the night.
During the night when your face is relaxed, the skin is better able to absorb the ingredients of a night cream, which is usually heavier than day creams. When you make your own homemade night-cream from a range of natural ingredients you can customize it to meet the needs of your type of skin.
For the best night creams that works naturally to firm, nourish and protect your skin, make your own.

Tip: Adding a few drops of benzoin oil to night cream firms the connective tissue and keeps skin supple. It also protects the skin from fine lines caused by dryness.
If you enjoy this site please share it with others.
Night Creams Recipes
Night Creams
For normal skin
4 tsp. macadamia-nut oil
2 tsp. hydrous lanolin
1 tsp. beeswax
4 tsp. lavender hydrosol
1/8 tsp. borax powder
8 drops Peru-balsam essential oil
2 drops benzoin essential oil
For dry, oil starved skin
5 tsp. coconut oil
2 tsp. hydrous lanolin
1 1/2 tsp. beeswax
5 tsp. rose hydrosol
1/8 tsp. borax powder
8 drops rose essential oil
1 drop benzoin essential oil
For normal or dry,
moisture-starved skin
6 tsp. macadamia-nut oil
2 tsp hydrous lanolin
2 tsp. beeswax
4 tsp. rose hydrosol
4 tsp. aloe-vera gel
1/8 tsp. borax powder
8 drops rose essential oil
1 drop benzoin essential oil
Put the oil, lanolin and beeswax in a double boiler; heat until the wax melts.
Heat the hydrosol and, if required, the aloe-vera gel, in separate pan. Add the borax powder; stir until dissolved.
With a mixer or whisk, mix the hydrosol solution into the wax mixture drop by drop until thoroughly blended.
Stir the cream until it's cool to the touch. Add the essential oils; stir until blended.
Fill clean plastic or glass jars with twist off lids and store in a cool dark place.
Take Care
Creams containing water don't keep as well as pure-fat creams or salves, so use the night cream for no longer than 3 months. To prolong the shelf life, make sure the preparation stages are free of germs and store it in the refrigerator on top of the shelf, which has the most constant temperature.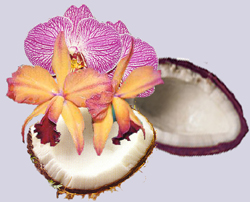 Application:
Cleanse and dry your face. Using a spatula, scoop out the night cream from the container; take a quantity about the size of a hazelnut. Spread it evenly on your face, neck and chest. After about 10 min., dab any excess with a soft tissue.
Ingredient Benefits:
Coconut oil: Coconut oil can help to nourish dry skin while protecting it from moisture loss. In addition, it helps replenish the skins depleted supply of natural oil.
Aloe-vera gel: Extracted from the interior of aloe-vera leaves, aloe-vera gel has moisturizing properties that regenerate and heal rough, dry skin.
Macadamia-nut oil: Often referred to as "dry oil" macadamia-nut oil has an exceptionally light consistency that is readily absorbed by the skin. Rich in oleic acid, the oil provides moisture for all types.
Natural hydrosols: Hydrosols, a water by-product of essential-oil production, make an aromatic substitute for the water portion in cream recipes. Rose hydrosol moisturizes dry skin; lavender hydrosol conditions normal skin.
Essential oils: Essential oils are added to a night cream to customize them for a particular type of skin. Rose-otto oil stimulates cell renewal and moisturizes dry or mature skin. Peru-balsam oil can regenerate dry flaky skin and is excellent for acne and oily skin, as well.
Hydrosol - The condensed water that is left behind when plants are steam distilled to make essential oil. A little like waters made from roses and lavenders and other herbs, except more pure and a little more concentrated. You can make your own waters, just by steeping an herb in warm water and straining. Or, you can purchase hydrosols. See below.
What is a hydrosol?
Join Our Free Newsletter

and
Get This FREE
brand new E-Book

"A-Z Reference Guide"

which includes links to all the recipes on this site plus
Ingredients Benefits
and HOW TO TIPS.
We value your Privacy