Enjoy making your own homemade Night Gel for Oily Skin, Skin Blemishes and Acne
Pimples and other blemishes can be indications that oil glands are overactive or that sebaceous (oil producing) glands are clogged.
Oily skin - blessing or curse? Oily skin ages much slower but also tends to develop blemishes more easily. If you have oily skin and are prone to breakouts there are a number of natural remedies that can control and regulate the skin's production of oil.

Daily Ritual Tip: If you have acne, it may help to change your pillowcase daily to keep it free of bacteria. Such strict hygiene will help protect against renewed outbreaks.
If you enjoy this site please share it with others.
Night Gel Recipe
Night Gel
For Oily skin
2 tsp. evening primrose oil
2 tbsp. aloe-vera gel
1 tsp. witch hazel
4 drops lemon essential oil
For acne
2 tsp. evening primrose oil
2 tbsp. aloe vera gel
1 tsp witch hazel
4 drops thyme essential oil
4 drops spike-lavender essential oil
Follow these directions to make both the oily skin and the night gels: Put all of the ingredients in a 2 oz. dark glass bottle; cap and shake to blend. If you are using aloe vera gel from a plant, you can refrigerate the night gel for up to 1 week, but then you must discard it. If the aloe-vera gel is store bought, the night gel will keep in a cool, dry place for up to 6 months.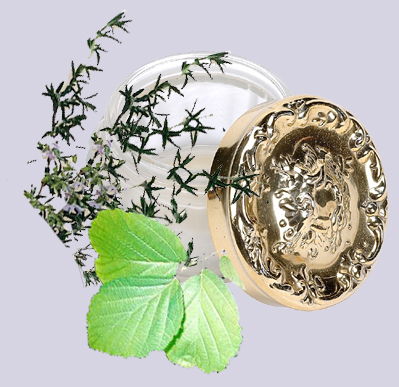 Care Tips
Acne also can be caused by fluctuating hormones, stress, certain medications, food allergies and a diet high in fat. Determine if your outbreak is due to one of these factors and use the night gel for quick acne relief.
To prevent further aggravation of your existing pimples, keep your hands scrupulously clean and away from your face. Resist the urge to squeeze or pick at acne, which could further inflame an outbreak and result in permanent scarring or pitting. Other basic tips are keeping your hair clean and away from your face; and sanitizing your telephone daily to remove bacteria that can help promote acne infection on your jaw line.
Many commercial-care products for oily skin contain isopropyl alcohol, benzoyl peroxide and acetone, all of which excessively strip the skin of surface oil. In addition, these products can dehydrate the skin, which in turn, causes the skin to produce even more oil to make up for the deficit.
Witch Hazel for Skin Blemishes
Pimples and other blemishes can be indications that oil glands are overactive or that sebaceous (oil producing) glands are clogged. A flare-up can be uncomfortable and take time to heal. A witch hazel-tincture has mild anti-inflammatory and analgesic effects, and will help freshen your skin, reduce excess oil and tighten pores. Dab affected areas with the tincture daily.

Application:
Thoroughly clean and dry your face, throat and neck. Pour a nickel sized amount of gel into your palm, and then smooth it over your skin. Let the gel penetrate for five minutes before applying any other skin products. Use the gel at night, when your skin is at rest, protected from pollutants and free from makeup.
Ingredient Benefits:
Essential oils for for acne: Thyme, lemon and yarrow essential oils are germicidal and anti-inflammatory, and have a healing effect on acne. Mix 10 drops each of these oils with 8 ounces of witch hazel. Saturate a cotton ball and apply to the face, neck, chest or back three times daily to disinfect the skin and remove oil. Store in a dark glass bottle and shake well before using.
Evening primrose oil to reduce inflammation: Skin that tends to develop blemishes may have a deficiency in gamma linolenic acid (GLA). As a result, pores tend to become clogged with debris. Evening primrose oil is rich in GLA and also has a natural anti-inflammatory action on the skin. Taken either internally (follow label directions) or applied externally, this oil helps reduce acne inflammation and encourages the skin to remain moist and soft.
Sunshine for blemishes: Unprotected exposure to the sun (without sunscreen) can help heal blemishes and stimulate the production of vitamin D in the skin. However, limit your exposure to 2-4 times a week for no longer than 15 minutes. Choose time before10:30 AM or 4 PM, when the suns rays are not strong.
Note: Excessive sun exposure can cause long term damage to the skin, which can result in skin cancer. Avoid any prolonged exposure to sunlight.
Join Our Free Newsletter

and
Get This FREE
brand new E-Book

"A-Z Reference Guide"

which includes links to all the recipes on this site plus
Ingredients Benefits
and HOW TO TIPS.
We value your Privacy