Enjoy making your own homemade Healing Salve for Wounds
One proven healing agent for wounds is a salve containing infused comfrey oil.
No matter how careful we are, accidents are unavoidable and can happen - at home, work or at play. The right wound treatment however, can promote the healing process and prevent any infections or complications from occurring. A salve containing infused comfrey oil should be part of your first aid regiment. Comfrey, a medicinal plant with a centuries-old history, contains minerals and allantoin, which inhibit inflammation and promote new cell and tissue growth.

Tip: Make an extra recipe of infused comfrey oil, and store it in the refrigerator in a tightly sealed, labeled jar. With some comfrey oil in reserve, you'll be able to make more healing salve whenever you need it. The oil keeps in the refrigerator for up to 1 year without going rancid.
If you enjoy this site please share it with others.
Ready Made Healing Salve for Wounds:
Do you have skin problems, blemishes, or rashes? Here is your solution! Use Elma 01 ointment for a variety of skin disorders and irritations such as psoriasis and rosacea. Elma 01 cleans scald head and stops hair loss. Use it for the revitalization of hand and face. It also speeds up the healing of cuts, burns, bruises, etc…

Healing Salve for Wounds Recipe:
Healing Salve
Makes 1 1/4 cups of cream

1/4 cup pure beeswax
1 cup infused comfrey oil
20 drops tea-tree essential oil
Shave or cut the beeswax into small chunks. In a small saucepan, warm the infused comfrey oil and the beeswax.
Heat the ingredients over low heat until the beeswax is just melted. Don't allow the ingredients to boil.
Remove from heat, and add the tea tree-essential oil. Then pour the salve into sterilized containers, and store in a cool dark place for up to a year.
Quick and Easy Healing Salve
1/2 cup all-vegetable shortening
(at room temperature)
10 drops tea-tree essential oil
10 drops calendula extract
In a small bowl, whip ingredients together, using a small whisk or spatula until thoroughly blended. The salve should have the look and feel of fluffy, orange butter-cream frosting. Store in a labeled plastic or glass container in a cool place for up to 3 months, or refrigerate for up to 1 year.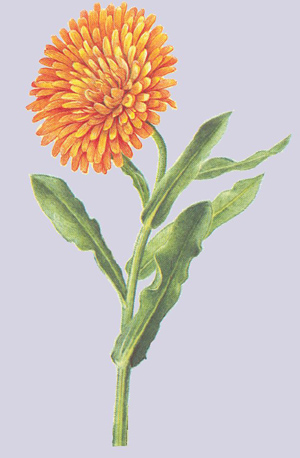 Caution!
There are a number of circumstances in which a healing salve should not be used. Do not use salve under these conditions:
When a cut is deeper than 1/4 in. Instead see a physician immediately for stitches.
When the injury is bleeding profusely. When the wound was caused by a splinter or any foreign object that cannot be removed with tweezers.
When the wound is the result of an animal bite, whether the animal is known or unknown.
When there is any chance the wound has become infected or that there may be blood poisoning.
When the skin feels warm from a burn.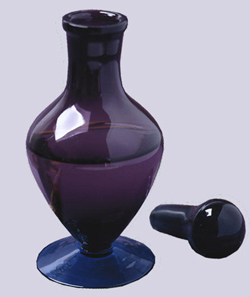 Infused Comfrey Oil
Not available ready-made, it can easily be prepared at home. In the top of a double boiler, cover 2 oz. of dried comfrey leaves with 2 cups of extra-virgin olive oil. Cook, covered, over simmering water for 60-90 minutes. Strain the comfrey oil through a paper towel, pressing down on the leaves.

Application:
Dab the margins of the wound with gauze that has been dipped in an antiseptic, such as alcohol or hydrogen peroxide (H2O2). Then apply the healing salve. Cover large wounds with a gauze bandage, but always leave smaller wounds uncovered.
Ingredient Benefits:
Comfrey for knitting tissues: Comfrey (Symphytum officinale) is a perennial plant growing in moist meadows and wastelands throughout the United States, reaching a height of 3-4 feet. Its roots and leaves have been used medicinally for hundreds of years to help heal a myriad of conditions, such as cuts, bruises, burns, insect bites and sore throats. A poultice made from the rootstock, when applied externally, can bring relief to inflamed arthritic joints, sprains and cystic acne. Comfrey encourages tissues bones and ligaments to reknit together; the herb has also been called "knit bone."
Beeswax as an emulsifier: Pure, unrefined beeswax has a golden color and the sweet smell of honey. It is used to thicken natural lotions, salves, lip balms and creams. It also acts as an emulsifier to help bind oils and water together.
Tea-tree essential oil to fight infection: Essential oil of tea tree (Melaleuca alternifolia) with its strong camphor like odor, is derived by distilling the plants leaves. It is a broad-spectrum antiseptic that combats bacterial, viral and fungal infections and can be applied directly to cuts, abrasions, nail fungus, athlete's foot, bleeding gums and acne.
Join Our Free Newsletter

and
Get This FREE
brand new E-Book

"A-Z Reference Guide"

which includes links to all the recipes on this site plus
Ingredients Benefits
and HOW TO TIPS.
We value your Privacy