Black hair setting lotions made for your hair type with natural organic ingredients
Wait until hair becomes damp-dry before applying setting lotion.
Customization is the way to give your hair what it wants and needs. Not 2 people are alike and everyone has unique hair. You may be a blond with fine straight or curly hair, a brunette or red head with thick wavy and unruly hair or of Black Heritage with a whole range of special hair needs of your own.
While you set, blow-dry or style your hair there are many benefits a custom setting lotion offers. Volume, hold and luminous shine, as well as control over fly-away hair. There are a number of natural hair-conditioning substances which will hold your hair without weighing it down. If you have chemically treated hair they will also help restore the acidic pH and elasticity. With the proper ingredients you can create a black hair setting lotion that is ideal for your particular hair type.

Tip: If you prefer to apply a hair-setting lotion with your hands instead of a spray bottle, use the following amounts for each application: For short hair, use 1 tbsp.; for medium-length hair, use 2 tbsp.; and for long hair use 3-4 tbsp.
If you enjoy this site please share it with others.
Setting Lotion Recipes:
Shine for all hair types
(except very dry hair)
1/2 cup warm water
1 tsp. honey
1 tbsp. fresh squeezed lemon juice
5 drops geranium essential oil
Help for fine, dry hair
1/2 cup warm water
1 tsp. honey
1 tbsp. apple-cider vinegar
4 drops rosemary oil
1/8 tsp. jojoba oil
Conditioning for chemically treated hair or Black Hair
1/2 cup warm water
1tsp. honey
1tbsp. apple-cider vinegar
5 drops geranium essential oil
1/8 tsp. jojoba oil
Here is an alternative to the above recipe for Hair Setting Conditioning Lotion if you are of Black Heritage
I travel to Jamaica a lot and all my friends there are Jamaican with problem hair. All of them straighten their hair which leaves it dull looking and dried out. This is what I suggest to them.
3 oils that they should have in their arsenal. Coconut Oil. Castor Oil and Grapeseed Oil.
Coconut oil: penetrates and moisturizes the hair shaft 100% like water. But unlike water will not frizz up the hair.
Castor Oil: which is a heavier oil seals in moisture and gives the appearance of thicker hair.
Grapeseed Oil: which is a very light weight oil is extremely rich in ceramides. It is one of the top oils with ceramide content of 73%
Role of ceramides:
Hold the scales of the hair cuticle together, which in healthy hair results in smooth and lustrous hair. In damaged hair, the ceramides are missing and results in dull, coarse and dry hair.
How to make the Recipes
Dissolve the honey in the warm water.
Add the proper ingredients for your type of hair and mix thoroughly.
If you are of Black Heritage experiment on your hair trying the different oils. Some might work for you better than others.
Transfer the lotion to a spray bottle. Note: Recipes make 4 applications. Setting lotions will stay fresh for for up to 2 weeks in the fridge. If you are allergic to honey, maple syrup can be used as a substitute.
Color-Enhancing Rinse
Use setting lotions after you color your hair. Rinses with color-enhancing herbs can intensify your natural hair color. For blonde hair, use Roman-chamomile flowers. Calendula petals are best for red and auburn hair. Try stinging nettle, sage, walnut shells or rosemary for brown or black hair. To make the rinse, boil 3 cups of distilled water or springwater. Remove it from the heat. Add 3 tbsp. of dried herb, stir, cover and steep 30 min. Strain and cool. Shampoo, squeeze out excess water and saturate your hair with 1 cup of the rinse. Squeeze out the excess, then apply a setting lotion. The rinse may stain light towels, so always use dark ones. You can store rinses in the refrigerator for 2 weeks.
Successful Blow-Drying
Start with freshly washed hair, and wait until it becomes damp-dry before applying setting lotion. This will prevent flyaway hair, as well as make it easy to shape. Begin to blow-dry while bending your head forward, starting from the roots. This technique will plump up the underlying hair and help give the hair at the top more hold, as well as create more body and volume.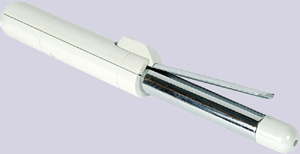 Application:
Wash your hair and let partially air-dry-or blow-dry it until just slightly damp. Apply setting lotion sparingly yet evenly, using a spray bottle. Comb the lotion carefully through your hair, and then style as usual with the dryer.
Ingredient Benefits:
Honey for natural hold and conditioning: The components in honey will condition and nourish your hair and scalp. Honey provides hair with natural hold, shine and volume. It also keeps your scalp from drying out, which helps prevent the formation of dry flakes.

Lemon juice for beautiful shine: Fresh-squeezed lemon juice gives your hair a lovely shine. It also lightens blonde, medium-blonde hair. If your hair tends to be dry, however, do not use lemon juice.
Rosemary for fine hair: Rosemary essential oil improves hair structure and supports healthy scalp function. The oil gently conditions fine and brittle hair.

Vinegar for hair repair: Apple-cider vinegar smoothes the hair cuticle and protects against structural damage. This helps chemically treated hair, as chemical processing roughens and damages the cuticle.
Geranium for aroma: Geranium oil is great for setting lotions. It has a soothing aroma as well as as a cleansing, antiseptic effect.
Join Our Free Newsletter

and
Get This FREE
brand new E-Book

"A-Z Reference Guide"

which includes links to all the recipes on this site plus
Ingredients Benefits
and HOW TO TIPS.
We value your Privacy