There are many benefits in a salon creating its own natural skin care products. The products can be tailor-made to suit the needs of the individual. This applies to creams, cleansers, toners and shampoos which can be easily modified to suit the individual's specific skin condition.

Potentially dangerous chemicals are not included as the recipes are composed of only natural raw materials. Any ingredients to which the client may be allergic to can be safely replaced with an alternative. The client's product is more like a personal prescription helping to reassure the client that they are receiving a unique and personalized treatment. Customers become loyal, as these products can not be found elsewhere. These beauty salon 'secrets' are explained below, enabling you to make them yourself, either at home using simple kitchen equipment, or in your own professional salon.

Personalized products have added value and customers will pay more. Cutting out the manufacturer can reduce the costs dramatically too! For example 30 ml of skin care cream costs just 20 - 30 pence (0.37-0.56 USD) to make. Including essential oils and jars, the final cost of the finished product would be less than 1 Pound or 1.90 USD. Lesser products sell for between £5 and £10! Making 2 - 3 litres of cream will take only 1 - 2 hours. Ordinary kitchen utensils can be used avoiding the need to invest in expensive equipment.

Branding is now an important aspect of today's successful businesses. Products can be labeled to reflect the corporate identity of the business. It is also much easier to sell a product which you have made yourself.

E-Vitamin Oil

E Vitamin Oil is recommended as a safe anti-oxidant.

The smallest amount of E-vitamin oil to use is 0.5% which will prolong the shelf life to around 2 years. This quantity is sufficient to protect the cream's ingredients but you will need to add much more to protect the shelf life of the skin! Most commercial products do not contain enough mega-doses of vitamins to do this. You can use up to 50% - 60% in an oil blend and although very safe to use on the skin, it should never be taken internally at these levels.

For anti-wrinkle and skin protection you need to increase the amount of E-Vitamin oil from 2 - 3% up to 10 -30%. This can easily be blended into your base oil. Applying 10 - 30% E-Vitamin Oil keeps the skin in good condition and increases the growth of new skin cells. It also increases the circulation, so don't worry if your skin gets slightly reddish. E-Vitamin oil is a greasy substance so if you have oily skin you need to combine it with a high dosage of 'thin' dry vegetable oil. When you make a cream or face oil you need only add the antioxidant once to keep the product fresh. To work as an anti-oxidant for your skin you need to apply it every day.

In this country people tend to use Wheatgerm as an anti-oxidant. However wheatgerm from factories goes rancid within a few weeks. This is because it contains very little E-Vitamin Oil (0.4 - 0.5%). It has a large amount of linolenic acid that makes this rancidity process even faster. This is why the smell of wheatgerm is normally so bad. A rancid product accelerates the rancidity process of the skin and through that we get wrinkles. Wheatgerm and E-vitamin oil should not be confused as a preservative as they do not preserve the products from bacteria and fungus. For that you need to use proper preservatives.


Article reprinted with permission from http://www.aromantic.com
© Copyright Aromantic 2002-2004

About the Author:

Kolbjørn Borseth of Aromantic specialises in empowering people of
all levels in making their own highly effective natural skin care
products. Through his website customers are able to access many
free resources as well as being able to order all the raw
materials, equipment and know-how required to make aromatherapy
products, creams, shampoos, soaps and cosmetics.

Visit Kolbjørn's Natural Skin Care web site at:
http://www.aromantic.co.uk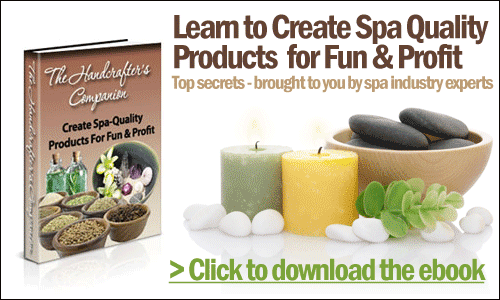 Click Here! To discover how to create your own pampering bath and body products and transform your home into your own luxurious spa oasis!

Never pay for gifts again! Customize soaps, oils and beauty products for your friends. Join Our Free Newsletter and
Get This FREE
brand new E-Book

"A-Z Reference Guide"

which includes links to all the recipes on this site plus
Ingredients Benefits
and HOW TO TIPS.
We value your Privacy