Raw Materials for Face Masks

The main ingredient in face masks is Clay. Clay is available in different colours and has a long tradition of use in natural medicine in many parts of the world. Clay is mixed with water or herbal infusions and other active ingredients in creams, bath and hair products, face masks, packs etc.

Clay is rich in minerals and active enzymes. Clay treatments stimulate the circulation of the blood and lymph systems, remove dead skin cells and absorb dirt and other surface fats. They also tone and strengthen the connective tissues. Clay stimulates blood circulation and draws toxins and superfluous fat from the skin. It contracts and tones the skin and strengthens the connective tissue.

Because of these many properties, clay is very useful for treating the following conditions:

Acne and other skin problems - Use the clay in creams, cleansers, lotions, face masks and baths.

Poor blood circulation - Use in face masks and body packs.

Poor lymph circulation - Use in face masks and body packs.

Sunburn and general burn damage to skin - Use in creams lotions, baths and face masks. A blend of clay, aloe vera, tea tree and lavender is outstanding for all kinds of burns.

Irritated and sensitive scalp - Use in shampoos and hair packs.

Here is a recipe I used on the Ruby Wax show for BBC1 television, and a lot of these raw materials you can find in your own fridge or cupboard.

The 'Ruby Wax' Avocado / Cucumber Facemask

Stage 1:

¼ cup cucumber, peel and chopped
¼ cup avocado flesh
3 tablespoons finely powdered oats (for mild peeling)
3 tablespoons of water
1 tablespoon lemon juice (squeezed from lemon)
1 teaspoon honey

Stage 2:

8-9 tablespoons clay
Few drops of essential oils (optional)

Method

Stage 1:

Puree the cucumber and avocado flesh in a food processor until it is smooth with the water and lemon juice Then add all the other ingredients in stage 1.

Stage 2:

Pour out the mix from the blender into a bowl and then whisk in the clay. Apply to clean face and neck and leave on for 20 - 30 minutes. Rinse off with warm water then use a toner and moisturiser.

This facemask is good for mature and dehydrated or dry skin. The cucumber has a natural moisturising effect and it smells like a fresh vegetable salad.

Use the mask 1 - 2 times a week.


Cleansing Clay Mask

Stage 1:

40 ml Lavender Water
35 ml Spring Water
10 drops Paraben
75g/ml Clay

Stage 2:

3 dr Tea Tree Oil
3 dr Lavender Oil
2 dr Lemon Oil
3 dr Peppermint Oil

Nourishing Clay Mask

Stage 1:

70 ml Rose Water
10 dr Paraben
80g/ml Clay

Stage 2:

2.5 ml Vitamin E
2.5 ml Borage/Starflower Oil or Evening Primrose Oil
5dr Sandalwood Oil
5dr Rosewood Oil
Spoon into a jar or tub and label

Stimulating Clay Mask

6O ml Peppermint Water
10 dr Paraben
75g/ml Green Clay
4 ml D-Panthenol
5 ml Aloe Vera Concentrate
5 dr Lemon Oil


Clay Mask for Sensitive Skin

40 ml Chamomile Water
25 ml Spring Water
10 dr Paraben
75g/ml Green Clay
10 ml Apricot Kernel Oil 1 dr Roman Chamomile (optional)

Method

Pour the water into a bowl and add the drops of Paraben. Sprinkle the Clay powder over and allow it to sink into the water without stirring (Part 1). Stirring can begin when the uppermost layer of Clay powder has begun to absorb the water. Add the other ingredients at this point (Part 2).

If you have sensitive skin, a small amount of Vegetable Oil can be added to the recipe and the face mask can be applied to dry skin which has been covered with a thin layer of oil. Wash the face mask off before it is fully dry. Otherwise, apply the face mask to clean skin which has been moistened with water. If you have normal skin, allow the face mask to dry completely before washing off. For normal skin, grimacing before washing off the face mask is an effective way of removing dead skin cells. NB: Moisten the lips first, otherwise these and not just the face mask will crack!

For sensitive skin the best type of clay to use is white clay. For all kinds of skin problems I recommend using green clay. For dry skin use pink clay. Green clay is most suitable for most skin conditions.
Article reprinted with permission from http://www.aromantic.com
© Copyright Aromantic 2002-2004

About the Author:

Kolbjørn Borseth of Aromantic specialises in empowering people of
all levels in making their own highly effective natural skin care
products. Through his website customers are able to access many
free resources as well as being able to order all the raw
materials, equipment and know-how required to make aromatherapy
products, creams, shampoos, soaps and cosmetics.

Visit Kolbjørn's Natural Skin Care web site at:
http://www.aromantic.co.uk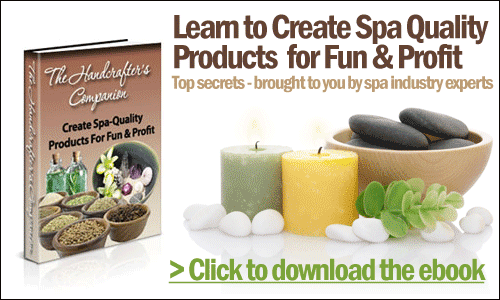 Click Here! To discover how to create your own pampering bath and body products and transform your home into your own luxurious spa oasis!

Never pay for gifts again! Customize soaps, oils and beauty products for your friends. Join Our Free Newsletter and
Get This FREE
brand new E-Book

"A-Z Reference Guide"

which includes links to all the recipes on this site plus
Ingredients Benefits
and HOW TO TIPS.
We value your Privacy