Bath treatments can be used to help a wide range of ailments. This is perhaps the most enjoyable and relaxing way to apply treatment. Bath treatments can be applied during a full bath every second day. Hand and foot baths can be taken daily. Don't fill the bath too fully so that you can add more hot water when required. We hope you enjoy making these products made from ingredients, which we source from ethical suppliers from all over the world.

Herbal Baths

There are five ways to make a herbal bath:

1. You can make an infusion or decoction of herbs and once strained this can be added to the bathwater.

2. Leave the herbs in the bath. This method is preferable for the use of such herbs as Plantain and Lady's Mantle for the treatment of eczema and itchiness.

3. Put fresh or dried herbs in a cotton bag or cloth and place in the bath.

4. Make an infusion / decoction and use that in a foam bath.

5. Use dried herbs in fizzy bath bombs and bath melts.

When using method 2 and 3 you always pour boiling water over the herbs and leave them for 10 minutes to infuse (for a decoction, boil for 20 mins.). For a complete body bath you will need a whole bucket of herbs in boiling water. After allowing to soak for a while you can then add cold water. A 15-20 minute soak is usually sufficient. After bathing fully rinse and dry your body.

Quantities of Herbs to Use

For a whole body bath use 40-50 gr. of dried herbs or 400-500 gr. fresh herbs. For a foot or hand bath use 20-35 gr. of dried herbs and 200-350 gr. of fresh herbs.

Base Foam Bath

25 gr. foam bath emulsifier
70-73 ml of infusion or decoction or boiling water
0.5 - 0.8 gr Paraben
2% essential oils

Method

1) Measure out the bath foam emulsifier using measuring scales or a measuring beaker

2) Pour boiling infusion, decoction or boiling water into the bath foam emulsifier

3) Stir slowly until the mixture thickens

4) Cool down the pot in cold water

5) When under 30°C add essential oils

NB: When you use herbs in the bath foam add 0.8 gr. Paraben to preserve it (herbs contain bacteria)

1) Circulation Bath

Good for all kinds of circulation problems including acne. Can be used in a footbath for fever, feet problems, rheumatism and muscular pain.

Make a decoction of 2 gr. Birch leaves, 2 gr Rosemary, 2 gr Thyme. Boil them for 10-20 mins, Strain and use 70 ml in the foam bath emulsifier. Add Essential oils of Rosemary (15 drops), Siberian Fir (15 drops) Lavender (10 drops)

2) Relaxing Bath

Good for stress and sleep problems. Make an infusion of 3 gr. Chamomile flowers and 3 gr. Lavender flowers. Strain and add 70 ml into the foam bath emulsifier. Add essential oils of Roman Chamomile (15 drops), Lavender (15 drops) and Sandalwood (10 drops).

3) Sensitive Skin Bath

Make an infusion of 3 gr. Rose petals and 3 gr. Chamomile flowers. Strain and put 70 ml into the foam bath emulsifier. Add essential oils of mandarin (15 drops), Lavender (15 drops) and Sandalwood (10 drops)

4) Vitamin Bath

25 ml foam bath emulsifier
68 ml boiling water

When the foam bath is under 40°C add: 3gr. E-Vit Oil, 1 gr. A-Vit Oil, 1 gr. C-Vitamin. Then add your own choice of 40-50 drops of essential oils.

5) Salt Bath

Use 1 kg rough sea salt for a whole body bath. For a foot or hand bath use 200 ml in 3 - 5 litres of water. Immerse for 15 - 20 minutes.

6) Soda Bicarbonate Bath

This reduces acidity in the body and is good for rheumatism, pain, gout, eczema and psoriasis. Use 20 gr. of Bicarbonate of Soda the first time and thereafter use 100 gr. Bicarbonate of Soda for a whole body bath. Use 1 tablespoon in a hand or foot bath. Immerse for 5 - 15 minutes and as hot as you can manage. (After a foot bath put on warm woollen socks on wet feet and leave on for 30 mins - 1 hr)

7) Tea Tree Bath

5-10 drops Tea Tree oil in a hand bowl of water.

Treatment for bad blood circulation: Take a circulation bath every second night and alternate with a soda bath. You can also alternate between a garlic bath and a yarrow/garlic bath.

8) Treatment for Fever

Drink Elderberry flower tea to reduce the fever. Footbath circulation essential oils/herbs. The footbath needs to be very hot and feet soaked in it for 10 - 15 mins. Rinse off with cold water, dry the feet well. Apply ointment afterwards.

9) Clay Bath

1-2 tablespoons clay mixed with 50 ml apple vinegar added to your bath.

10) Garlic Bath

Press 10 Garlic cloves in vegetable oil or Red Turkey Oil. Store for 3-4 days, shaking or stirring twice a day. Strain through a fine cotton cloth so there is no garlic left in the oil. The oil can be stored for 3 - 4 months with a preservative but use 1% E- Vit oil. Add 2-3 teaspoons in a footbath and 2-3 tablespoons for a full bath.

Article reprinted with permission from http://www.aromantic.com
© Copyright Aromantic 2002-2004

About the Author:

Kolbjørn Borseth of Aromantic specialises in empowering people of
all levels in making their own highly effective natural skin care
products. Through his website customers are able to access many
free resources as well as being able to order all the raw
materials, equipment and know-how required to make aromatherapy
products, creams, shampoos, soaps and cosmetics.

Visit Kolbjørn's Natural Skin Care web site at:
http://www.aromantic.co.uk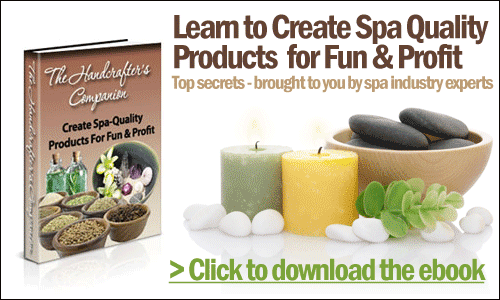 Click Here! To discover how to create your own pampering bath and body products and transform your home into your own luxurious spa oasis!

Never pay for gifts again! Customize soaps, oils and beauty products for your friends. Join Our Free Newsletter and
Get This FREE
brand new E-Book

"A-Z Reference Guide"

which includes links to all the recipes on this site plus
Ingredients Benefits
and HOW TO TIPS.
We value your Privacy