Psoriasis is a common, often inherited, skin disorder which occurs when the production rate of new skin cells is accelerated. The result is raised patches of pink, thick, new skin covered with flakes of dead skin. This acceleration seems to occur in connection with stress, emotional problems, infections or other illnesses.

Medical science has not yet solved the riddle of psoriasis or identified what causes it. The only treatment doctors are able to offer is the application of cortisone based products. Although these relieve symptoms for periods of time, side-effects normally include damaged skin and patients are faced with using cortisone for the rest of their lives. Because of this, our advice is never to begin with cortisone products in the first place, even if your doctor recommends them. If you are already using cortisone products, our advice is gradually to decrease the use of cortisone (to avoid the reaction which can occur if the cortisone is stopped suddenly) and then to continue treatment with our psoriasis creams.

Treatment of Psoriasis using Tea tree Oil Products

Tea tree products have no known side effects and they are giving good results in the treatment of psoriasis.

Several times per day - Apply to affected areas (alternating between the cream and lotion) for bigger areas):

Tea tree cream with Aloe Vera and Borage Oil (this combination is very effective in the treatment of psoriasis):

Tea tree lotion is for particularly dry areas, apply; Tea tree ointment (it should not contain should not contain Vaseline).

Sodium Bicarbonate Bath

Use 1-3 times per week. Add 2 - 5 tablespoons of Sodium Bicarbonate to your bath water every other night. These measures counteract excess acidity in the body which psoriasis thrives on.

Foot bath in the Evening

Take a footbath with 5-10 drops of Tea tree Oil. Put 1 table spoon of Sodium Bicarbonate in a foot bath or use 25gr dried Birch leaves.

Additional Advice

1. Switch to a vegetarian diet, preferably vegan

2. Try to identify the source of your stress and how this affects your mental and emotional health and find a way to manage it that works for you (eg. relaxation, counselling, body therapy, meditation, 'time out', etc.)

3. Try visiting a health farm where you can fast and get advice and support about changing your diet.

4. To detoxify your system after extended use of cortisone, see a homoeopath.

5. Do not use ointments and creams containing vaseline or Paraffin Oil. These suppress symptoms and patients think they are well again but the disorder is still active in the body. Only use Vegetable Oils!

6. Silica is very important in healing Psoriasis. Take homeopathic silica tablets.

7. If you want to heal your psoriasis, you need to stop drinking alcohol!

General Advice for those Suffering with Skin Conditions such as Acne, Eczema and Psoriasis

DIET:

If your body chemistry is too acid you must eat more alkaline foods.

Balancing your diet - acid / alkaline

When food is metabolised by the body the end products are either acidic or alkaline. Acids are compounds of elements which give away hydrogen ions, Alkalines are compounds of elements which attract hydrogen ions. The body needs both Acids and Alkalines for its metabolism but we have more difficulty getting rid of Acids than Alkalines. It is therefore easy for an accumulation of excess acids to occur which can cause us to get rheumatism or skin problems such as eczema, psoriasis and acne. To avoid this, aim for a diet which is 70% Alkaline and 30% Acid.
To achieve a more alkaline diet you can consider replacing the following items in your diet:
Bread
Wheat, Spaghetti, Macaroni
Chocolate & Cocoa drinks
Tea, Coffee
Barley cup
Soya products
Rice, Oats, Porridge

Bread based on sprouts such as Buckwheat bread
Buckwheat and Millet Spaghetti
Carob based products
Herbal Teas & Fermented Herbal Teas
Quorn products
Millet or Buckwheat porridge
The following table of Alkaline/Acidity was developed by the Swedish man Ragnar Berg in the 1930's.
Cucumber (+31)
Dried Figs (+28)
Raisins (+16)
Dried Rose Hips (+15)
Tomatoes (+14)
Lettuce (+14)
Mandarin oranges (+12)
Celery (+11)
Oranges (+10)
Carrots (+10)
Lemons (+10)
Leeks (+9)
Endive (+9)
Spinach (+9)
Gooseberries (+9)
Chives (+8)
Buckwheat (+8)
Millet (+8)
Grapes, Dried Dates (+7)
Bananas (+7)
Potatoes, peeled (+7)
Blackberries (+7)
Plums (+6)
Cabbages (+5)
Apricots (+5)
Peaches (+5)
Blueberries (+4)
Black Currants (+4)
Milk (+4)
Apples, Pears, Cherry (+3)
Onions (+3)
Strawberries (+2)

Rice with husk (-51)
Bran (-39)
Whole Wheat (-38)
Oat Flakes (-30)
Eggs (-23)
Rye Bread (-22)
Meat (all) (-10 to -19)
Fish (all) (-10 to -19)
Whole Rye (-17)
Cheese (-17)
Cottage Cheese (-17)
Peanuts (-15)
Asparagus (-14)
Corn (-14)
Rice, polished (-11)
Wheat Bread (-11)
Soya Beans (-10)
Rye Crispbread (-9)
Brussel Sprouts (-9)
Wheat Flour (-8)
Brown Beans (-8)
Butter (-6)
Yellow Peas (-4)
Green Beans (-4)
Margarine (-4)
Artichokes (-4)
Almonds, Hazel (-1)


Vitamin A is a vitamin that is used for all types of skin infections. It is safe to use in the form of Retinal Palmitate. This vitamin plays an important role in the functioning of the eyes and the making of new skin and mucous membranes. It prevents infections in the mucous membranes (respiratory). This vitamin nourishes the skin, counteracts inflammations and protects cell membranes and other structures within the cells from the damage caused by free radicals and in this way helps to prevent skin disorders. Vitamin A occurs naturally in liver, fish oils and egg yolk (primarily as retinol). The daily recommended intake for adults is 2.500-5000 IE. Excess vitamin A is stored in the liver. With larger doses (50.000-100.000 IE pr. day) the liver is unable to store the excess and this is then spread around the body and can cause symptoms such as headache, hair loss, feeling unwell and fatigue.

Vitamin A is produced synthetically. Natural compounds can be used e.g. those found in betacarotene or essential oils. These result in a vitamin A acid (retinoic acid) which is very strong and active. This is stabilized by mixing with organic acids such as acetic acid to produce retinol acetate, or palmitic acid to produce retinyl palmitate. Retinyl palmitate is a yellowish, thick, liquid oil which becomes very thick at temperatures below 15°C. Dosage should be in the ratio of 0.1-2% (maximum), i.e. 0.1-2ml pr. 100ml finished product. Retinyl palmitate is absorbed by the skin. It is used in skin care products for dry, ageing, lifeless skin, also in the treatment of acne, eczema and psoriasis. Vitamin A increases blood flow, stimulates the skin and protects against sunburn. Vitamin A is also used in anti- wrinkle creams where it is claimed to 'remove' wrinkles.

Clay Facemasks and compresses are also good for the use for all skin care conditions.

Method - Sprinkle the clay over the waters and allow to settle for 5 - 10 minutes then whisk it together. Then add Stage 2.

RECIPE: Clay Mask 1 / Compress

Stage 1 :

40ml Chamomile Water
25ml Spring Water
10 drops Paraben
75gr Green Clay

Stage 2 :

10ml Apricot Kernel Oil
1 drop Roman Chamomile (optional)

Spoon into a Jar or Tub and label

Method:

Paste the clay all over the affected area and keep it on for 1 hour or until it starts to get dry and crack. Wash off with warm water and rinse with cold. Place a cotton compress soaked with aloe vera on the area for around 20 minutes. Rinse off with cold water.
Apply avocado oil on the face

Repeat this treatment 1 - 2 times per week


Clay's Properties and Effects

* Rich in minerals and active enzymes

* Stimulates lymph circulation and thereby more efficient waste handling and Improvement of cell nutrients

* Stimulates blood circulation

* Draws toxins and superfluous fat from the skin

* Contracts and tones the skin

* Strengthens the connective tissue


Therapeutic Indications and Uses


Poor blood circulation - Use in face masks and body packs.

Poor lymph circulation - Use in face masks and body packs.

Sunburn and general burn damage to skin - Use in creams lotions, baths and face masks. A blend of Clay, Aloe Vera, Tea tree and Lavender is outstanding for all kinds of burns.

Irritated and sensitive scalp - Use in shampoos and hair packs.

Personal hygiene - If you cannot use ordinary soap.

Refresh tired and "washed out" skin - Use in facemasks.

Slack or loose skin - Use in creams, lotions, baths, face masks and cleansing products.

Acne and other skin problems where cleansing is called for - Use the clay in creams, cleansers, lotions, face masks and baths.

Eczema - Blend the clay with the juice or infusion of Lady's mantle, Horsetail and Chamomile into a cream-like consistency. Put this into a cotton cloth and place on affected area. Then secure by wrapping the herbal compress with cling film, a sticky compress or another cotton cloth. Leave for 3-4 hours or overnight. You can repeat this treatment every second night with the same or different types of herbs.

One Day Fast

Drink (in early morning) 0.5 - 1 liter tepid water

09.00 am: Drink 200ml Berry juice (Blueberry or Cranberry - not blackcurrants). Drink 200ml Linseed drink

11.00am: Drink 200ml herb tea:
Infuse 2gr Dandelion leaf, 2gr Chamomile, Boil 2gr Golden Rod for 20 minutes. Strain together.

13.00pm: Drink 200ml Carrot juice (Fresh is best)

15.00pm: Drink 200ml Carrot juice

17.00pm: Drink 200ml Vegetable stock and 200ml Green juice (such as Wheatgrass or Nettle juice)

19.00pm: Berry Juice (Blueberry or Cranberry - not blackcurrants)

Soothing the Itch


Massage with Chickweed juice. Fill a food mixer with Chickweed and 100ml still water. Mix for 2 minutes. Squeeze out the juice and massage into the affected area. You can also add 5-10ml Aloe Vera concentrate.


Article reprinted with permission from http://www.aromantic.com
© Copyright Aromantic 2002-2004

About the Author:

Kolbjørn Borseth of Aromantic specialises in empowering people of
all levels in making their own highly effective natural skin care
products. Through his website customers are able to access many
free resources as well as being able to order all the raw
materials, equipment and know-how required to make aromatherapy
products, creams, shampoos, soaps and cosmetics.

Visit Kolbjørn's Natural Skin Care web site at:
http://www.aromantic.co.uk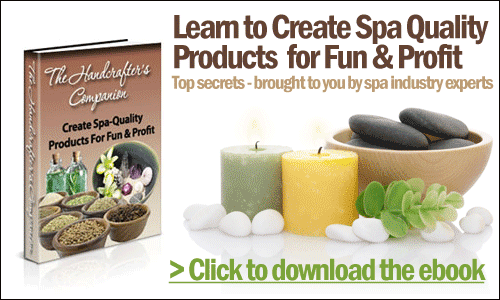 Click Here! To discover how to create your own pampering bath and body products and transform your home into your own luxurious spa oasis!

Never pay for gifts again! Customize soaps, oils and beauty products for your friends. Join Our Free Newsletter and
Get This FREE
brand new E-Book

"A-Z Reference Guide"

which includes links to all the recipes on this site plus
Ingredients Benefits
and HOW TO TIPS.
We value your Privacy