The following recipes can be easily made in your own kitchen using ordinary kitchen equipment:

Marigold Ointment

Melt 15 gr. Beeswax and 45 ml of vegetable oil of your choice in a double boiler (a saucepan immersed in a larger saucepan of water). Then add another 35 ml of vegetable oil to the mixture

To this add 3 gr. of Marigold CO2 extract * and 25 drops of essential oils of your choice.

Pour into jars and label

* Alternatively you can soak marigold flowers in olive oil for 2- 3 weeks and use this oil instead.

Children's Fizzy Bath Bombs

Mix together:

120 gr. Sodium bicarbonate (sift through a strainer to remove any lumps)
with 160 gr. Citric Acid and cellulose

Melt separately:

15 gr. Cocoa butter and 15 gr. Turkish red oil
Add them to the powder and blend well
Add 2 - 3 ml of essential oils of your choice and finally some colouring (without water)
Now blend everything together well for 5 - 6 minutes using your hands or a kitchen blender

Form it into a ball with your hands and leave to dry. You can also use a mould to shape the mixture (cake paper moulds are good). Leave them overnight to dry on greaseproof paper.

Baby Massage Oils

Baby skin needs gentle and safe fats and oils such as those used for very sensitive skin. We have three classical oils for this purpose - Apricot kernel oil, Peach kernel oil and Rosehip oil. Always add a little E-Vitamin oil in your massage oil as its good for the skin and will help prevent it going rancid.

Baby Massage Oil No 1

30 ml Apricot or Peach kernel oil
30 ml Olive oil (Virgin)
39 ml Thistle oil (Starflower oil)
1 gr. E-Vitamin oil

Add a few drops of essential oils and mix together, bottle and label

Baby Massage Oil No 2
(without the use of kernel oils)

40 ml Virgin olive oil
58 ml Evening Primrose oil
2 gr. E-vitamin oil

Simply mix together, bottle and label

Luxury Massage Oil

50 ml Organic Apricot oil
45 ml Organic Rosehip oil
5 gr. E-Vitamin oil

Simply blend together then add a few drops of your favorite essential oil
Bottle and label


In Part 3 Kolbjørn will explain how to make natural skin creams
and gels, which can be turned into products designed specifically
to address health problems such as cellulite, hemorrhoids, dry
skin and sunburn.
Article reprinted with permission from http://www.aromantic.com
© Copyright Aromantic 2002-2004

About the Author:

Kolbjørn Borseth of Aromantic specialises in empowering people of
all levels in making their own highly effective natural skin care
products. Through his website customers are able to access many
free resources as well as being able to order all the raw
materials, equipment and know-how required to make aromatherapy
products, creams, shampoos, soaps and cosmetics.

Visit Kolbjørn's Natural Skin Care web site at:
http://www.aromantic.co.uk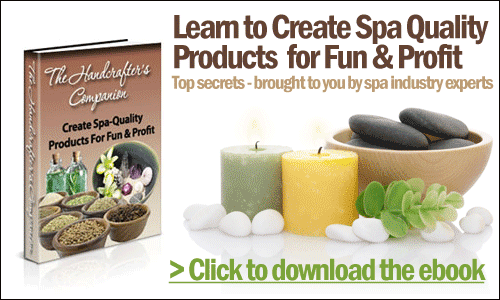 Click Here! To discover how to create your own pampering bath and body products and transform your home into your own luxurious spa oasis!

Never pay for gifts again! Customize soaps, oils and beauty products for your friends. Join Our Free Newsletter and
Get This FREE
brand new E-Book

"A-Z Reference Guide"

which includes links to all the recipes on this site plus
Ingredients Benefits
and HOW TO TIPS.
We value your Privacy