You can source lots of raw materials for skin care products from your own garden. For example Beeswax from your own beehive is excellent for ointments and lip balms. If your climate is not good for creating vegetable oils you can probably get GM free and organic Rape Seed oil from a local farmer, which will form an excellent vegetable oil base for many products.

In bygone days animal fat such as lard and tallow from sheep and pig fats were used to make ointments for different healing purposes but because they store heavy metals and pesticides, I don't recommend them even if the source is organic.

Another fat which can be used in ointments is Lanolin. This comes from sheep wool and protects the wool and skin from drying out. This is then washed out from the fleece commercially. However, due to the volume of pesticides used in sheep-dip, small quantities of these harmful agents can be left in the Lanolin. Always ask for pesticide reduced Lanolin when possible.

Sunflower seeds contain 50% vegetable oil and this can be extracted by pressing or by using a coffee grinder in the same way as you would make Tahini. After some time the oil starts to separate from the remaining pulp and it can then be strained off and used for your ointments.

Ointments are easy products to make at home. They have many uses for problem skin types. They are used mostly on dry, cracked skin and for minor injuries to the skin. To make ointments you will need a stainless steel saucepan, a bowl, a whisk, a spatula, and a thermometer (up to 100°C) as well as the ingredients.

A simple base ointment can be made from Vegetable oils and Beeswax. The Vegetable oils nourish the skin whilst at the same time softening and protecting it. The Beeswax protects the skin whilst giving the ointment its consistency. The more Beeswax you add, the harder the ointment will be and the more Vegetable oil you add, the softer it will be.

Base Ointment

15g Beeswax
80ml Vegetable oil of your choice (e.g. Almond oil)*

* There are many Vegetable oils to choose from, everything from a simple olive or sunflower oil to a more luxurious avocado, apricot kernel or Jojoba oil.

Different vegetable oils are used to treat different skin conditions.

Sweet Almond Oil is a classic skin oil for general use.

Macadamia Oil for Mature Skin

Apricot Oil and Peach Kernel Oil are good for sensitive and dry skin.

If you want to add Borage Oil or Evening Primrose Oil, make sure you do so when your ointment is under 45°C.

Don't use an ointment on oily skin or skin with large pores as ointments containing too many saturated fatty acids.

Method:

Melt the Beeswax and Vegetable oil together in a double boiler. When the Beeswax is completely melted, remove the bowl or saucepan the ingredients are in from the double boiler. Beat the ointment until it has cooled to approx. 40-45°C. Beat in any other ingredients you wish to include thoroughly. Pour into jars.

Tip: Once you know what you are doing, it is also possible to add the most Vitamin rich oils such as cold Avocado oil up to a maximum of 50% of the total oil content of the ointment (this saves a lot of work heating and cooling the oils, especially when making large quantities).

Ointment Variations:

Add at 40-45°C to make the following ointments:

Arnica Ointment - add 5ml Arnica tincture

Marigold Ointment (for cracked & dry skin) - add 1 ml Lavender Oil and 2ml/gr-Marigold C02 extract or 5ml Marigold tincture

Liniment (for sore muscles) - add 3ml white crystal

Zinc Ointment - add 5g Zinc oxide

Foot and Leg Ointment (for tired or cold feet/legs) - add 3ml Rosemary oil

Tea Tree Ointment - add 5ml Tea Tree oil and 1ml Lavender oil

St. John's Wort Ointment - add 30 ml St. John's Wort oil instead of 30ml Vegetable oil

Ointments are nourishing but also fatty and sticky. You can make them less fatty by reducing the amount of Beeswax and using more of the 'dry' vegetable oils.

Facemasks

Most raw materials for face masks can be found in your garden, fridge or cupboard. Pick your own herbs and flowers (such as lavender and chamomile flowers) for strong infusions. Infuse the fresh or dried flowers in still water (this is just like making a strong tea brew). Strain it and use it immediately in your home made facemask. If you want to keep this herbal infusion for later use, add 1% Paraben as a preservative. This will increase the shelf life of the infusion by up to 1 month if stored in a fridge.

We use commercially available clay from France available in many different colours which are good for different skin conditions. As the clay dries in the sun it gets ionised. To use your local clay you must first ensure that it is free of pollutants. Dry it in the sun until it becomes a powder then you can use it for face masks.

Clay's Properties and Effects

* Rich in minerals and active enzymes

* Stimulates lymph circulation and thereby more efficient waste handling and improvement of cell nutrients

* Stimulates blood circulation

* Draws toxins and superfluous fat from the skin

* Contracts and tones the skin.

This basic face mask is based on clay and water to which other active ingredients may then be added. For a very simple face mask mix equal amounts of water and clay and add a small quantity of essential oil (1-10 drops per 100ml).

If you have sensitive skin, a small amount of vegetable oil can be added to the recipe and the face mask can be applied to dry skin which has been covered with a thin layer of oil. Wash the face mask off before it is fully dry. Otherwise, apply the face mask to clean skin which has been moistened with water.

If you have normal skin, allow the face mask to dry completely before washing off. For normal skin, grimacing before washing off the face mask is an effective way of removing dead skin cells.

NB: Moisten the lips first, otherwise these and not just the face mask will crack! Apply the face mask onto clean skin. Wash off after 15 minutes.


RECIPES

Equipment:

Kitchen measuring jug, kitchen bowl, spoon for stirring, teaspoon for putting face mask into jars.

Method:

Part 1:

Pour the Water into a bowl and add the drops of paraben. Sprinkle the clay powder over and allow it to sink into the water without stirring.

Part 2:

Stirring can begin when the uppermost layer of clay powder has begun to absorb the water. Add the other ingredients at this point.

The shelf life of these products is approximately 1.5 years.

Cleansing Clay Mask

Part 1:

75ml of infused and strained Lavender Water
75gr. Clay (green or white)

Part 2:

4dr Tea Tree Oil
10dr Lavender Oil
2dr Lemon Oil

Spoon into a jar or tub and label.

Clay Mask for Sensitive Skin

Part 1:

65ml Infused and strained Chamomile Water
75 gr. Clay

Part 2:

10ml Apricot Kernel Oil
3 - 4 dr Roman Chamomile (optional)

Spoon into a jar or tub and label.

Tips:

If your facemask becomes too dry, just add water especially if it has been stored for more than 1.5 years. If you want to increase the shelf life, add 0.5% E-vitamin oil as an oxidant.

Different types of clay absorb different quantities of liquid so you may need to add varying amounts of water and hydrolate.

You can also use flower water (hydrolates) instead of the infused flowers. Dilute 50% in still water or it may be too strong on the skin.

If you want to keep your facemasks longer than one week, add 15 drops of Paraben to each 100ml of facemasks. This will lengthen its shelf-life to 1.5 - 2 years.

Avocado / Cucumber Facemask

Stage 1:

¼ cup cucumber, peel and chopped
¼ cup avocado flesh
3 tablespoons finely powdered oats (for mild peeling)
3 tablespoons of water
1 tablespoon lemon juice (squeezed from lemon)
1 teaspoon honey
Stage 2:
8-9 tablespoons clay
Few drops of essential oils (optional)

Method:

Stage 1:

Puree the cucumber and avocado flesh in a food processor until it is smooth with the water and lemon juice. Then add all the other ingredients in Stage 1.

Stage 2:

Pour out the mix from the blender into a bowl and then whisk in the clay. Apply to clean face and neck and leave on for 20 - 30 minutes. Rinse off with warm water, then use a toner and moisturizer.

This facemask is good for mature and dehydrated dry skin. The cucumber has a natural moisturizing effect and it smells like a fresh vegetable salad. It will stay fresh in the fridge for up to 1 week.
Article reprinted with permission from http://www.aromantic.com
© Copyright Aromantic 2002-2004

About the Author:

Kolbjørn Borseth of Aromantic specialises in empowering people of
all levels in making their own highly effective natural skin care
products. Through his website customers are able to access many
free resources as well as being able to order all the raw
materials, equipment and know-how required to make aromatherapy
products, creams, shampoos, soaps and cosmetics.

Visit Kolbjørn's Natural Skin Care web site at:
http://www.aromantic.co.uk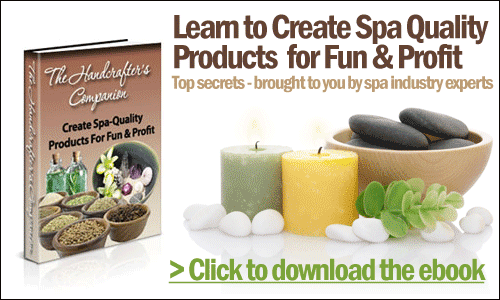 Click Here! To discover how to create your own pampering bath and body products and transform your home into your own luxurious spa oasis!

Never pay for gifts again! Customize soaps, oils and beauty products for your friends. Join Our Free Newsletter and
Get This FREE
brand new E-Book

"A-Z Reference Guide"

which includes links to all the recipes on this site plus
Ingredients Benefits
and HOW TO TIPS.
We value your Privacy