There are many good base oils and blended massage oils on the market these days. However they may not be ideal for individual skin types and conditions which require special blends of oils. Tailor made massage oils are more like prescriptions than just simple lubricants.

Massage oils are derived from either mineral oils (like Vaseline or Paraffin) or vegetable oils which are sourced from natural (preferably organic derivatives).

A lot of massage products contain mineral oils. They are synthetic, have a long shelf life, give good lubrication but can be very bad for the skin and body. They can create a thin film on the surface of the skin, blocking the pores and preventing the skin from functioning normally. Mineral oils do not contain any vitamins and disturb or even stop the skin from being able to absorb fat soluble vitamins. They are detrimental to the skin with long-term use. Mineral oils appear to moisturize the skin but in reality they suppress its normal, healthy functioning. The skin then becomes 'dependent' on constant applications of mineral oil which, in turn, result in a deterioration of the skin's character and ability to keep itself healthy.

Vegetable fats and oils are readily absorbed by the skin and are used to nourish (give energy to) the skin / body. They are needed to create new cells and for other important processes in the body. Most vegetable oils contain vitamins which are necessary for the skin (such as pro A, D and E). They can stimulate the skin to function better and create better circulation. They soften the skin and make it pliable, helping it to retain its own moisture more effectively. Vegetable oils contain the essential fatty acids but can go rancid after a short time.

As a general guide, never use saturated fatty acids on people with oily skin or large pores as the pores can be easily blocked and enlarged. Coconut butter, Cocoa butter, Shea butter, Lard and Macadamia nut oil contain high levels of saturated fatty acids and should not be used for this skin type.

They are however good for other skin conditions, giving 'body' to the massage oil and enhancing the lubrication. They also keep well for a relatively long time extending the shelf life of your products.

Vegetable oils with a lot of monounsaturated fatty acids like Olive Oil, Avocado and Sweet almond oil provide good lubrication, keep well and can nourish the skin.

Jojoba is an important ingredient in a massage blend as you can massage for a long time with it. It is often known as a liquid wax and is very protective on the skin. However it should never be used on its own because it does not give nourishment for the skin. It can keep for up to 5 years before it goes rancid.

The third group of fatty acids that are used are Polyunsaturated fatty acids. These are often known as essential fatty acids as a lack of them can lead to rashes, eczema and dry skin. They act like a vitamin for the skin. Among these are Linoleic and Linolenic acid. They need to be combined with e-vitamin oil to prevent them from going rancid quickly. They are thin liquids which are quickly absorbed by the skin. They are drier than other fatty acids and reduce the size of skin pores. These are very good for people with oily skin and large pores but can be used with good results on all other skin conditions.

Vegetable oils which contain a lot of polyunsaturated fatty acids are Sunflower oil, Borage oil (Starflower), Evening Primrose, Grape Seed and Thistle Oil which is less expensive and of excellent quality. As a rule, never buy Borage or Evening Primrose oil without containing at least 0.5% E-vitamin oil, otherwise it will go rancid within 6 months.

Recipes for Massage Oils

Dry Skin Massage Oil

10 g Coconut Butter
30 ml Olive Oil
20 ml Sweet Almond Oil
15 ml Jojoba Oil
5 ml Thistle Oil
2 ml E-Vitamin oil (100%)
17 ml Apricot Oil
Essential Oils as required

Melt the Coconut Butter in a bain marie and then add the Vegetable Oils. Finally add the E-vitamin oil and essential oils.

Mature Skin Massage Oil

40 ml Macadamia Nut Oil
20 ml Apricot Oil
15 ml Thistle Oil
10 ml Borage Oil
13 ml Jojoba Oil
2 ml E-Vitamin Oil (100%)
Essential Oils as required

The classical vegetable oil for mature and dehydrated skin is Macadamia Nut oil. We use Borage Oil instead of Evening Primrose Oil as it contains double the amount of GLA (20-24%)

Massage Oil for Oily Skin and/or Acne

50 ml Thistle Oil
20 ml Jojoba Oil
10 ml Avocado Oil
15 ml Borage Oil
3 ml E-vitamin Oil (100%)
2 ml A-vitamin Palmitate (very good for acne)
Essential Oils as required

Massage Oil for Sensitive Skin

50 ml Apricot Kernel Oil
10 ml Sesame Oil
25 ml Peach Kernel Oil
5 ml Rosehip Oil
8 ml Shea butter Oil
2 ml E-vitamin Oil (100%)
Essential Oils

Apricot Kernel, Peach Kernel and Rosehip Oil are classic vegetable oils for sensitive skin.

We never use Wheatgerm Oil in massage oil products because it goes rancid quickly. We use food-grade E-vitamin oil instead which will keep the oil fresh for 1.5 - 2 years.



Article reprinted with permission from http://www.aromantic.com
© Copyright Aromantic 2002-2004

About the Author:

Kolbjørn Borseth of Aromantic specialises in empowering people of
all levels in making their own highly effective natural skin care
products. Through his website customers are able to access many
free resources as well as being able to order all the raw
materials, equipment and know-how required to make aromatherapy
products, creams, shampoos, soaps and cosmetics.

Visit Kolbjørn's Natural Skin Care web site at:
http://www.aromantic.co.uk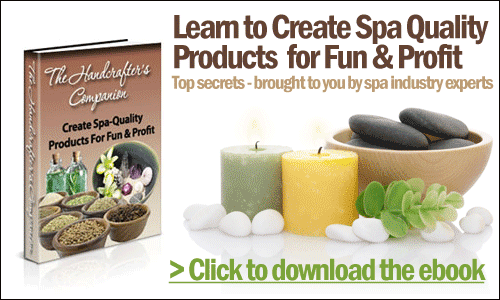 Click Here! To discover how to create your own pampering bath and body products and transform your home into your own luxurious spa oasis!

Never pay for gifts again! Customize soaps, oils and beauty products for your friends. Join Our Free Newsletter and
Get This FREE
brand new E-Book

"A-Z Reference Guide"

which includes links to all the recipes on this site plus
Ingredients Benefits
and HOW TO TIPS.
We value your Privacy