The Health Benefits of Natural Products such as Echinacea tincture, Egg yolk, Eleuthero Root - most frequently nicknamed Siberian ginseng, elderflower glycerite, emulsifying wax, eucalyptus essential oil, evening primrose oil, everlasting oil aka Helichrysum oil, eyebright.
Alphabetical List of Ingredients

Benefits

E

(Echinacea Glycerite)

Echinacea for inflamed skin: Echinacea has antibacterial properties and restores inflamed connective tissue. The alcohol extract is readily available in health-food stores. Note: The alcohol in echinacea tincture evaporates when it is heated, leaving behind the herb's potent healing properties. Recipe for Body Lotion

Egg yolk

Egg yolk for elasticity: The lecithin in egg yolk is completely absorbed by the skin and used as "skin food." Yolk gives the skin a fine, rosy appearance and maintains the elasticity of its upper layers. Recipe for Facial Pack

Natural lecithin for beautiful hair: Enrich vegetable hair tints by adding an egg yolk, which contains lecithin, a hair-softening emollient. This adds protein, which helps to smooth the hair cuticle and boost shine. Recipe for Hair Tinting

Lecithin for nourishment: Egg yolks contain large amounts of lecithin and supply valuable conditioners that do not weigh down the hair. The scalp, too, can benefit from the lecithin, as it is very nourishing for the skin. Recipe for Hair Treatments

For mental and physical stress: When stress levels run high, delicately scented lemon-balm leaves can help relieve symptoms by combating muscle and nervous tension. Siberian-ginseng root can be beneficial in reducing stress levels, but if you are pregnant or suffer from epilepsy, avoid using them. Recipe for Relaxing Baths

Natural help for dandruff: If you have dandruff, use a shampoo containing eucalyptus essential oil. Each time you wash your hair, the eucalyptus essential oil will remove existing flakes and help purify your scalp. Recipe for Shampoo

Evening-primrose oil for easing inflammation: A natural anti-inflammatory, evening primrose oil aids in healing irritated skin, making it good for people with blemishes or skin problems. Recipe for Mosquito Repellant

Evening primrose oil to reduce inflammation: Skin that tends to develop blemishes may have a deficiency in gamma linolenic acid (GLA). As a result, pores tend to become clogged with debris. Evening primrose oil is rich in GLA and also has a natural anti-inflammatory action on the skin. Taken either internally (follow label directions) or applied externally, this oil helps reduce acne inflammation and encourages the skin to remain moist and soft. Recipe for Night Gel

aka Helichrysum oil

If you enjoy this site please share it with others.

If you have a website Link to Us.

For educational purposes only. This information has not been evaluated by the Food and Drug Administration. This information is not intended to diagnose, treat, cure, or prevent any disease.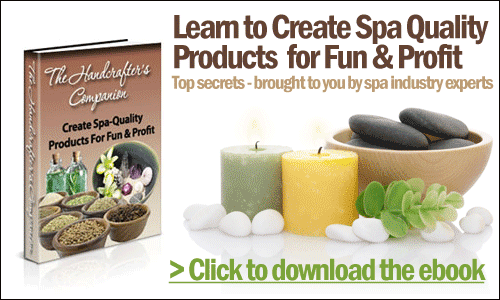 Click Here! To discover how to create your own pampering bath and body products and transform your home into your own luxurious spa oasis!

Never pay for gifts again! Customize soaps, oils and beauty products for your friends. Join Our Free Newsletter and
Get This FREE
brand new E-Book

"A-Z Reference Guide"

which includes links to all the recipes on this site plus
Ingredients Benefits
and HOW TO TIPS.
We value your Privacy